In a chatty mood today so I decided to do a quick survey from
Night Owl Crafting
.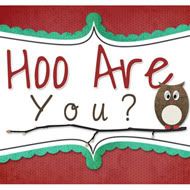 1. What did you get/give for Valentine's Day?
Valentine's Day is pretty low-key for the hubby and I. He got me a few dozen of my favorite flowers (daffodils and tulips) and I got him a video game that he's been wanting.
2. Do you have a vacation planned in the next couple of months or in the summer?
Voyage to the Homeland 2011! Planning a trip to Scotland in August and trying to decide a possible second location along the way. It's a toss-up between the Lake District of England, Northern Wales, or Northern Ireland. Any recommendations?
3. What is one thing you do to pamper yourself?
Allowing myself craft time. And the ocassional massage to offset all of the dancing that I do.
4. What sparks your interest to other people's blogs?
I love to see what crafty things people are up to! So many blogs inspire me that I'm always wanting to try new projects or live vicariously through others and their crafts.
5. What kind of a mood are you in today?
Little Miss Chatterbox.
What about you? Any fun answers to these questions? Oh, and I really would love your recommendations regarding question 2. Thanks and happy Wednesday!